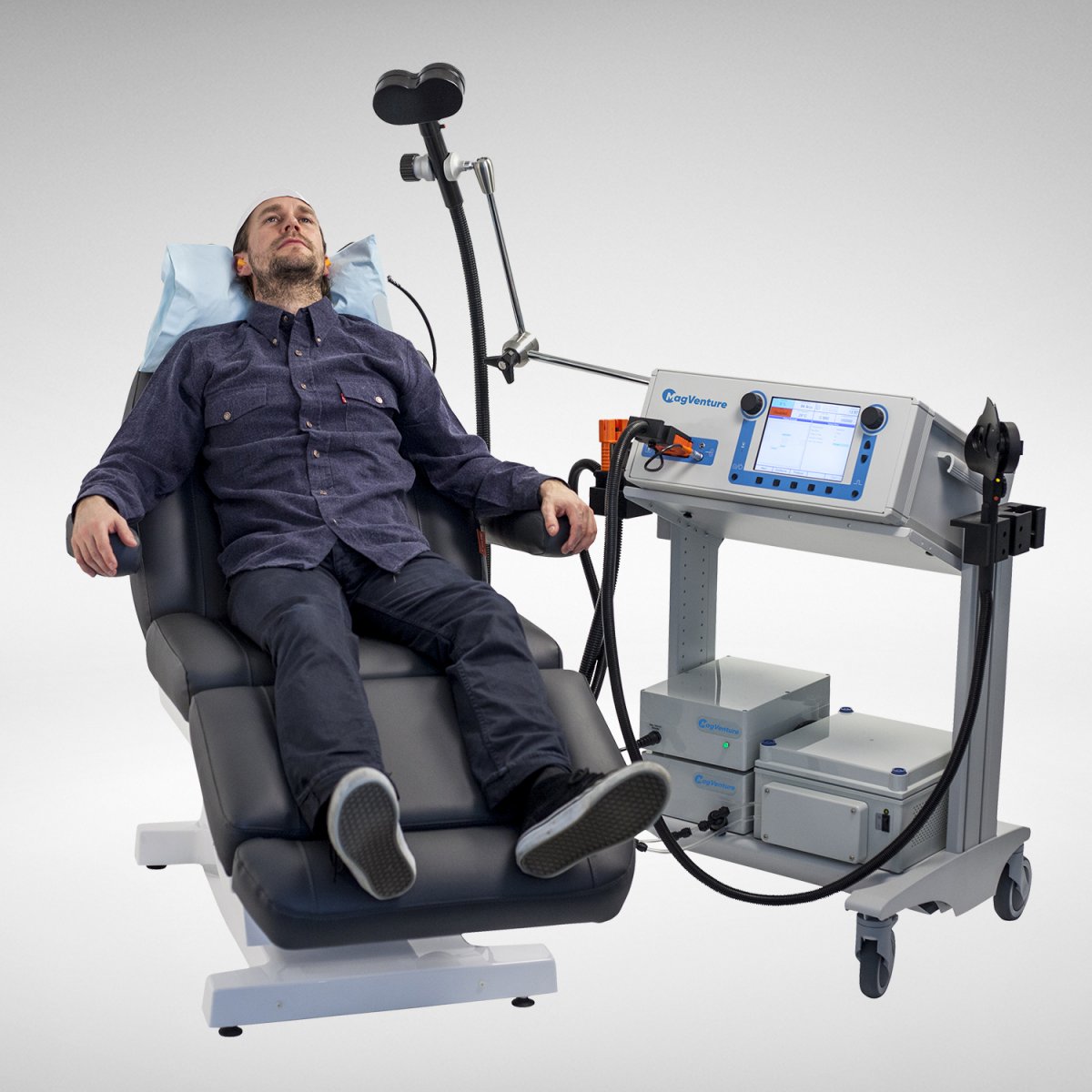 Course of TMS therapy
Treatment consists of a series of treatments lasting from a few minutes to several tens of minutes, depending on the indication and the protocol used.
During the procedure
, the patient sits comfortably in a chair while a coil applied to his head emits electromagnetic impulses aimed precisely at a specific region of the brain.
The treatment takes place on
an outpatient basis, without the need for anesthesia, hospitalization or sick leave.
The treatments do not disturb your everyday life in any way.
The method is characterized by
few
and
not very troublesome
side effects, the most common being a slight discomfort felt at the site of head stimulation (irritation/ pinching) and a transient headache.

Depression treatment:

The classic treatment protocol for depression is based on repetitive stimulation - rTMS (repetitive TMS), with a frequency of 10 Hz - and consists of a series of 20 to 30 treatments over the 4-6 consecutive weeks weeks; a single treatment lasts 19 min or 37 min and 30s. An alternative protocol is Express TMS® based on iTBS (intermittent theta burst stimulation), where the treatment duration is only 3 min 9s.

In the case of both protocols, the stimulated brain region is the dorsolateral prefrontal cortex which is responsible for cognitive functions such as planning, decision-making and mood control, and which shows reduced activity in depression. The aim of the stimulation is to excite this brain area.

Pain management:

In the treatment of neuropathic pain the most common protocol is rTMS with its stimulating effect and the stimulation is applied to the region of the primary motor cortex. The time of a single treatment is a few minutes, 3 to 10 treatments are recommended.

Blumberger DM et al., Effectiveness of theta burst versus high-frequency repetitive transcranial magnetic stimulation in patients with depression (THREE-D): a randomised non-inferiority trial. Lancet 2018, 391(10131):1683-1692.
Lefaucheur JP et al., Evidence-based guidelines on the therapeutic use of repetitive transcranial magnetic stimulation (rTMS): An update (2014-2018). Clin Neurophysiol 2020, 131(2):474-528.